The rapid advancement of biotechnology has had a profound impact on combating infectious diseases like COVID-19 through the creation of mRNA vaccines produced via in vitro RNA synthesis technology. Numerous companies, including Moderna in the United States, CureVac in Germany, and BioNTech in Germany, have not only developed therapeutic mRNA vaccines but also treatments for conditions such as tumors, infectious diseases, and chronic illnesses.
The research and formulation of mRNA vaccines necessitate a diverse range of raw materials to ensure their successful development. As a pioneering force in the domestic molecular enzyme industry, Yeasen has achieved success in creating various molecular enzymes and reagents through advanced molecular enzyme biotechnology and large-scale protein fermentation and purification techniques.
To guarantee both product quality and production capacity, Yeasen has established a GMP-level production facility in Wuhan, capable of fully satisfying industrial-scale production requirements with an annual capacity exceeding 5 billion units. Additionally, Yeasen stands as the first Chinese company to obtain the ISO 13485 certification for research, development, manufacturing, and distribution of molecular enzymes. This certification assures the quality, consistency, and traceability of all their reagents.
1. Advantage of GMP
2. Yeasen can provide GMP-grade Products
3. Yeasen Acquired DMF Numbers for Many Products
4. Application scenarios of Yeasen products
5. Raw materials for mRNA vaccine preparation provided by Yeasen
6. Ordering Information
1. Advantage of GMP
"GMP-grade" is a branding term that Yeasen uses to describe reagents manufactured at ISO 13485 certified facilities. Yeasen's GMP-grade reagents are produced in compliance with ISO 13485 quality management system standards and with more stringent process controls and complete documentation records. Yeasen can not only offer high-quality reagents but also provide documents, site audits, and other support to our customers.
Table 1. Advantage of GMP
| | | |
| --- | --- | --- |
| Quality Controls | Research level | GMP-grade |
| Animal free | Animal-derived material may be used | Animal-free certificates can be provided if required |
| Cell bank characterization | Less stringent | Stringent (compliant with GMP regulations) |
| Traceability information for raw materials and finished product | Less stringent | Stringent (compliant with GMP regulations) |
| Endotoxin level control | / | Stringent |
| Sterile control | / | Stringent |
| Batch records for manufacturing and testing | Less stringent | Stringent (Batch records can beh provided if required) |
| Process validation report | / | The report can be provided if required |
| Change control system | Self-assessment | Stringent (compliant with GMP regulations) |
| Quality management system | Self-assessment | ISO 13485 certification |
| DMF number | / | Yes (reporting) |
2. Yeasen can provide GMP-grade Products
Leveraging extensive expertise and technical excellence in enzyme development and industrial-scale production, Yeasen has established a cutting-edge facility known as "mRNAtools." This facility, spanning 50,000 square feet, adheres to GMP regulations and boasts state-of-the-art features, including 2×1500L automated fermentation units, large-scale purification equipment, and lyophilization capabilities. mRNAtools is dedicated to delivering stringent reagents that align with customer production and regulatory requirements.
Yeasen's molecular enzyme production facility, purpose-built for GMP-grade products, safeguards product quality on both a hardware and software level. It comprises a highly skilled team of 70 professionals, each possessing extensive GMP production experience. The warehousing and logistics operations are modularized, ensuring the safe storage and efficient transportation of products. A nationwide multi-center distribution network further guarantees a reliable supply cycle.
3. Yeasen Acquired DMF Numbers for Many Products
Drug master files (DMFs) are confidential documents voluntarily submitted to the US Food & Drug Administration (FDA). They contain detailed information about facilities, processes, or articles utilized in the production, processing, packaging, and storage of human drug products.
The FDA scrutinizes the technical content of a DMF when an active pharmaceutical ingredient (API) manufacturer references it to support their Investigational New Drug Application (IND), New Drug Application (NDA), Abbreviated New Drug Application (ANDA), or Export Application. DMFs play a pivotal role in these applications. When manufacturers file DMFs for specific materials, the FDA approval process can be significantly expedited.
Yeasen possesses DMF files that can streamline project timelines. If desired, you may request reference authorization to our DMFs to support your FDA application. To initiate the reference authorization of our DMFs, kindly submit a Letter of Authorization request to Yeasen, requesting that we provide an FDA Center-specific DMF Letter of Authorization.
4. Application scenarios of Yeasen products
4.1 Template Generation
Plasmid linearization is an indispensable step during template generation when plasmid vectors are used as transcription templates. As transcription proceeds to the end of DNA templates, plasmid linearization ensures that RNA transcripts of a defined length and sequence are generated. Yeasen provides various restriction enzymes to meet your needs. We recommend selecting restriction enzymes that generate blunt ends or 5´-overhangs. 
4.2 In Vitro Transcription ( IVT )
In vitro transcription is affected by various factors. Enzymes, buffers, and modified substrates all have a great impact on transcription efficiency. By optimizing the buffer and adjusting the salt type of the nucleotide substrate, we greatly improved the efficiency of transcription and reduced the production of dsRNA.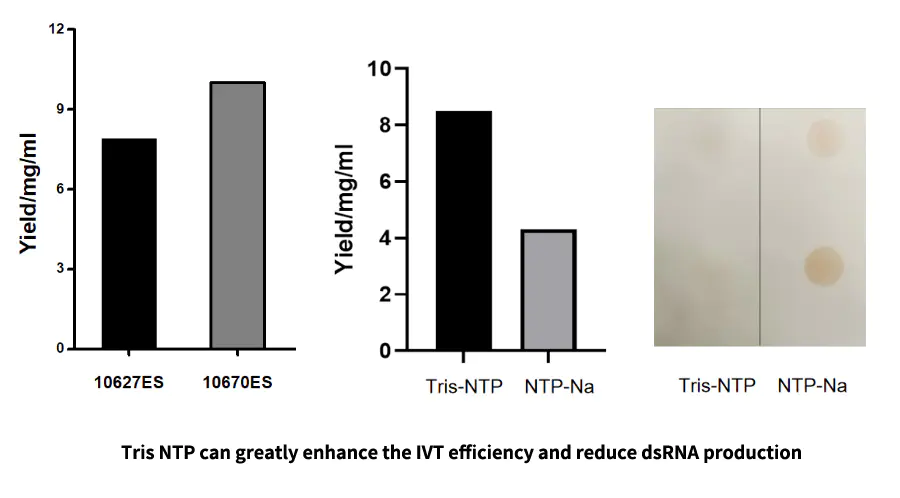 4.3 mRNA Capping
As a 5´ cap structure reduces immunogenicity and is required for efficient translation of mRNAs, adding cap structures to the 5′ ends of mRNA generated by transcription is necessary. 

Figure 1. Cap rate detection results (LC-MS detection)
4.4 mRNA Purification
Purification is an indispensable step to achieving high-purity mRNAs.
5. Raw materials for mRNA vaccine preparation provided by Yeasen
At present, Yeasen can provide a complete set of products in the production process of mRNA stock solution. The products are strictly controlled by GMP production and fully meet the requirements of mRNA vaccine production.
Table 2. Raw materials for mRNA vaccine preparation provided by Yeasen
6. Ordering Information
The following are representative products offered by Yeasen. Additional sizes are available. Our products are highly optimized to work in concert, to help ensure superior performance and reproducibility. We can also provide customized services. If you're interested in a product that isn't shown, contact us and we'll work with you to meet your needs.
Table 3. Ordering Information
Regarding reading:
GMP-grade reagents for mRNA in vitro synthesis
DNase I and Their Applications in Biomedicine
References:
[1] Chaudhary, N., Weissman, D., & Whitehead, K. A. (2021). mRNA vaccines for infectious diseases: principles, delivery and clinical translation. Nature reviews. Drug discovery, 20(11), 817–838.
[2] Vogel, A. B. et al. Self-Amplifying RNA Vaccines Give Equivalent Protection against Inflfluenza to mRNA Vaccines but 
at Much Lower Doses. Molecular therapy : the journal of the American Society of Gene Therapy 26, 446-455, 
[3] Fuchs, A. L., Neu, A. & Sprangers, R. A general method for rapid and cost-efficient large-scale production of 5' 
capped RNA. RNA (New York, N.Y.) 22, 1454-1466, doi:10.1261/rna.056614.116 (2016). 
[4] Schmid, A. Considerations for Producing mRNA Vaccines for Clinical Trials. Methods in molecular biology (Clifton, N.J.) 1499, 237-251, 
[5] Banerji, A. et al. mRNA Vaccines to Prevent COVID-19 Disease and Reported Allergic Reactions: Current Evidence and Suggested Approach. The journal of allergy and clinical immunology. In practice 9, 1423-1437, 
[6] Richner, J. M. et al. Modifified mRNA Vaccines Protect against Zika Virus Infection. Cell 168, 1114-1125.e1110, 
[7] Corbett, K. S. et al. SARS-CoV-2 mRNA vaccine design enabled by prototype pathogen preparedness. Nature 586,567-571, 
[8] Corbett, K. S. et al. mRNA-1273 protects against SARS-CoV-2 beta infection in nonhuman primates. Nature immunology 22, 1306-1315, 
[9] Keech, C. et al. Phase 1-2 Trial of a SARS-CoV-2 Recombinant Spike Protein Nanoparticle Vaccine. The New England journal of medicine 383, 2320-2332,
[10] Kramps, T. & Elbers, K. Introduction to RNA Vaccines. Methods in molecular biology (Clifton, N.J.) 1499, 1-11, 
[11] Linares-Fernández, S., Lacroix, C., Exposito, J. Y. & Verrier, B. Tailoring mRNA Vaccine to Balance Innate/- Adaptive Immune Response. Trends in molecular medicine 26, 311-323,