Description


Ampicillin is a β-lactam antibiotic within the penicillin family. As a member of this family, Ampicillin is susceptible to β-lactamase, which hydrolyzes the β-lactam ring. This broad-spectrum antibiotic is effective against gram-positive, gram-negative bacteria, and anaerobic bacteria. As an antibiotic, Ampicillin binds to penicillin-binding proteins (PBPs), acting as a structural analog of acyl-D-alanyl-D-alanine, acylating the transpeptidase enzyme, and thereby preventing the cross-linking of the peptidoglycan of the cell wall necessary for the growth of the bacterium. Ampicillin in the form of sodium salt from Yeasen, as a selective agent in E.coli culture, is widely used to prepare LB medium.
As a selective agent in E.coli culture, Ampicillin is widely used to prepare LB medium. The minimum inhibitory concentration (MIC) of ampicillin against Gram-negative bacteria and Gram-positive bacteria were 0.03-3 μg/mL and 0.02-1.5 μg/mL, respectively.   Agar or culture medium for autoclave should be cooled to 45-50°C before adding ampicillin solution. A culture medium containing ampicillin can be stored at 2-8°C for 2 weeks, and at 37°C for approximately 3 days.
This product is ampicillin sodium salt. The recommended concentration for cell screening is 50-100 μg/mL.
Features
High-quality raw materials, all antibiotic product raw materials are sourced from high-quality fixed suppliers
Standardized production, using factory mass production mode
Wide range of applications, which can be used in the fields of molecular biology and biochemical experimental research of tissue culture
The cooperation platform covers the whole
To ensure product quality stability, the difference between batches is controlled within 1%
Applications
As a selective agent in E.coli culture, Ampicillin is widely used to prepare LB medium
Used for sterilization in cell culture
Specifications
| | |
| --- | --- |
| Synonyms | D-(-)-α-Aminobenzylpenicillin sodium salt, Amblosin, Plumericin, Viacilina-A |
| CAS# | 69-52-3 |
| Formula | C16H18N3NaO4S |
| Molecular Weight | 371.39 |
| Appearance | White to off-white powder |
| Potency (Anhydrous) | 845-988 mcg/mg |
| Solubility | Soluble in water: ≥ 50 mg/mL |
| Structure | |
Components
| | | | |
| --- | --- | --- | --- |
| Components No. | Name | 60203ES10 | 60203ES60 |
| 60203 | Ampicillin, Sodium Salt | 10 g | 100 g |
Shipping and Storage
The product is shipped with ice packs and can be stored at 2℃ ~ 8℃ for three years.
Figure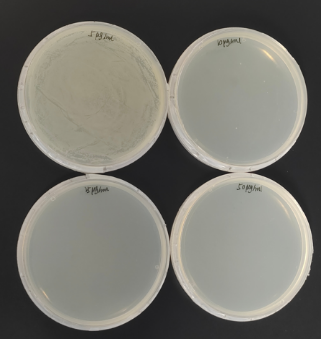 Figure 1 The result of the bacteriostasis test

Type of Bacteria: E.coli

Usage amount: 5 µg/mL, 10 µg/mL, 25 µg/mL, 50 µg/mL
Citations & References:
[1] Zou Y, Wang A, Shi M, et al. Analysis of redox landscapes and dynamics in living cells and in vivo using genetically encoded fluorescent sensors. Nat Protoc. 2018;13(10):2362-2386. doi:10.1038/s41596-018-0042-5(IF:12.423)
[2] Wu R, Mei X, Ye Y, et al. Zn(II)-curcumin solid dispersion impairs hepatocellular carcinoma growth and enhances chemotherapy by modulating gut microbiota-mediated zinc homeostasis. Pharmacol Res. 2019;150:104454. doi:10.1016/j.phrs.2019.104454(IF:7.658)
[3] Ma H, Lin J, Li L, et al. Formaldehyde reinforces pro-inflammatory responses of macrophages through induction of glycolysis. Chemosphere. 2021;282:131149. doi:10.1016/j.chemosphere.2021.131149(IF:7.086)
[4] Zhang X, Tang W, Wen H, et al. Evaluation of CTB-sLip for Targeting Lung Metastasis of Colorectal Cancer. Pharmaceutics. 2022;14(4):868. Published 2022 Apr 15. doi:10.3390/pharmaceutics14040868(IF:6.321)
[5] Jin M, Kong L, Han Y, Zhang S. Gut microbiota enhances the chemosensitivity of hepatocellular carcinoma to 5-fluorouracil in vivo by increasing curcumin bioavailability. Phytother Res. 2021;35(10):5823-5837. doi:10.1002/ptr.7240(IF:5.882)
[6] Li Z, Zhang L, Song Q, et al. Proteomics Analysis Reveals Bacterial Antibiotics Resistance Mechanism Mediated by ahslyA Against Enoxacin in Aeromonas hydrophila. Front Microbiol. 2021;12:699415. Published 2021 Jun 8. doi:10.3389/fmicb.2021.699415(IF:5.640)
[7] Qiu Y, Yu J, Li Y, et al. Depletion of gut microbiota induces skeletal muscle atrophy by FXR-FGF15/19 signalling. Ann Med. 2021;53(1):508-522. doi:10.1080/07853890.2021.1900593(IF:4.709)
[8] Tan F, Limbu SM, Qian Y, Qiao F, Du ZY, Zhang M. The Responses of Germ-Free Zebrafish (Danio rerio) to Varying Bacterial Concentrations, Colonization Time Points, and Exposure Duration. Front Microbiol. 2019;10:2156. Published 2019 Sep 18. doi:10.3389/fmicb.2019.02156(IF:4.259)
[9] Yang Y, Yu S, Liu N, et al. Transcription Factor FOXO3a Is a Negative Regulator of Cytotoxicity of Fusarium mycotoxin in GES-1 Cells. Toxicol Sci. 2018;166(2):370-381. doi:10.1093/toxsci/kfy216(IF:4.181)
[10] Ji X, Han T, Kang N, Huang S, Liu Y. Preparation of RGD4C fused anti-TNFα nanobody and inhibitory activity on triple-negative breast cancer in vivo. Life Sci. 2020;260:118274. doi:10.1016/j.lfs.2020.118274(IF:3.647)
[11] Liao PC, Franco-Iborra S, Yang Y, Pon LA. Live cell imaging of mitochondrial redox state in mammalian cells and yeast. Methods Cell Biol. 2020;155:295-319. doi:10.1016/bs.mcb.2019.11.008(IF:1.441)