Description
Description
Hieff NGS™ Dual UMI UDB Adapter Kit for MGI, Set 1 is a special kit for library preparation of the MGI high-throughput sequencing platform. This kit contains the MGI UMI Adapters (short adapter) and the UDB Primers for high-throughput sequencing library preparation. The UMI Adapters include an 8 bp Unique Molecular Identifier (UMI) used to detect low-frequency mutations which effectively reduce index hopping and mismatches, and ensure the accuracy and authenticity of the analysis results.
Components
Components No.

Name

48×2 T

48×4 T

13367

UMI Adapter for MGI

480 μL

960 μL

UDB Primer 001-048

10 μL each

20 μL each
Storage
-25℃ ~ -15℃ storage, valid for 18 months.
Figures
The DNA library structure

Figure 1. The DNA library structure
UMI Adapter for MGI:
5´-/5Phos/ NNNNNNNNAAGTCGGAGGCCAAGCGGTCTTAGGAAGACAATCA*G -3´
5´-TTGTCTTCCTAAGCAACTCCTTGGCTCACAGAACGACATGGCTACGATCCGACTTNNNNNNNN*T-3´
Barcode 2 Primer for MGI:
5´-/5Phos/CTCTCAGTACGTCAGCAGTT[Barcode 2]CAACTCCTTGGCTCACAGAAC -3´
Barcode 1 Primer for MGI:
5´-GCATGGCGACCTTATCAG[Barcode 1]TTGTCTTCCTAAGACCGCTTGG-3´
[Barcode 2] represents the 10 bp Barcode 2 sequence, and [Barcode 1] represents the 10 bp Barcode 1 sequence. The Barcode names, the Barcode sequences of the primers, and the corresponding Barcode sequence information for the sequencing are shown in the manual.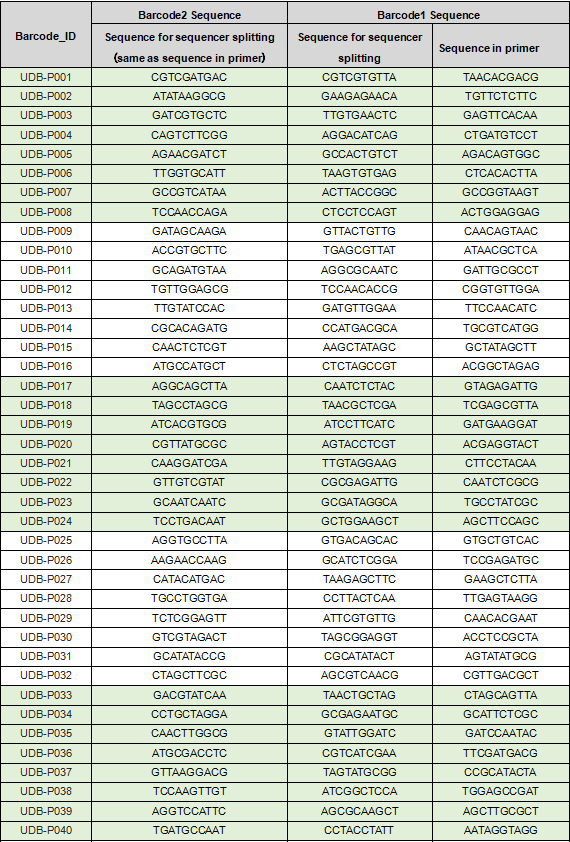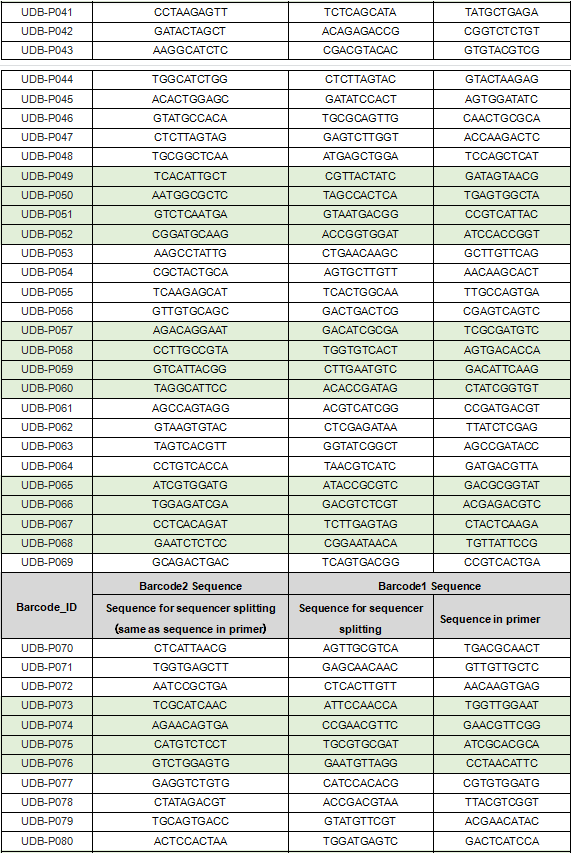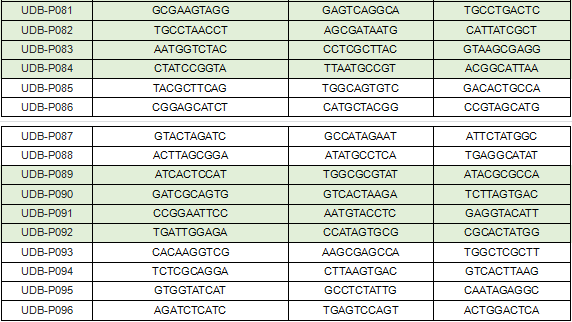 Figure 2. Sequence information
Note: For the Dual Barcode sequence design of the MGI platform, in Barcode 1-48, every 8 barcodes are one group; in Barcode 49-96, every 4 barcodes are one group. To achieve the optimal sequencing quality, when preparing multi-sample libraries, it is recommended to use Barcodes of continuous Barcode_ID to prepare libraries, and the Barcode types need to be more than 8.