Description
Description
Hieff NGS™ Ultima Pro DNA Library Prep Kit is a next generation library construction kit specially developed for the Illumina and MGI high-throughput sequencing platform, and exhibits higher efficiency in end repair, dA-tailing, and adapter ligation than the previous versions. The high-fidelity enzyme significantly improves the uniformity and fidelity of amplification. The kit is compatible with most DNA sample types, including standard genomic DNA from animals/plants/microorganisms, FFPE samples, cfDNA, and ChIP DNA. Compatible with 100 pg - 1000 ng input DNA samples of most types, including cfDNA and FFPE samples.
Features
Compatible with multiple types of DNA samples:animal and plant gDNA, microbial gDNA, FFPE DNA, cfDNA, ChIPDNA, etc., support the construction of PCR free library

With an industry-leading library conversion rate of more than 70%

Proven to provide high-quality libraries and sequencing data.

Strict batch stability
Applications
Preparation of DNA library for illumina and MGI platform

Suitable for sequencing in tumor, reproductive genetics, genetic disease detection and other fields
Specifications
| | |
| --- | --- |
| Product Type | Library Preparation Kit |
| Libraries | Fragment Library |
| Fragmentation method | Ultrasonic |
| Input amount | 100 pg - 1000 ng |
| For Use With (Equipment) | Illumina and MGI Platforms |
| Sample Type | gDNA |
| Sequencing Type | Genome & DNA Sequencing |
| Product Line | DNA library constrction |
| For Use With (Application) | NGS DNA library preparation |
| Quantity | 8 /24/96 Reactions |
Components
Components No.

Name

12197ES08

 

(8T)

12197ES24

 

(24T)

12197ES96

 

(96T)

12197-A

Endprep Buffer 2.0

48 μL

144 μL

576 mL

12197-B

Endprep Enzyme 2.0

32 μL

96 μL

384 μL

12197-C

Ligation Enhancer 2.0

240 μL

720 μL

3×960 μL

12197-D

Rapid T4 DNA Ligase 2.0

40 μL

120 μL

480 μL

12197-E

Canace™ Pro Amplification Mix 2.0

200 μL

600 μL

3×800 μL
Shipping and Storage
-25℃ ~ -15℃ storage, valid for one year.
Figures
Comparison of library yield of gDNA samples with different inputs
Figure 1.Comparison of the yield of 12197 and 12201 libraries with different input amounts
Sample: Ultrasound interrupts calf gDNA
Sample Input:5/50/100/500/1000 ng
Number of PCR cycles:12/8/6/4/3 cycles
Method: Use different library preparation kits to preparation library, then compare the library yields.
Results: Compared with 12201 kit, the yield of 12197 kit is significantly higher, especially the yield of 1ug high-input library.
Tumor ctDNA standards were compared with 12197 for hybridization capture libraries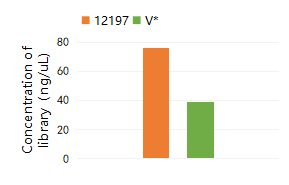 Figure 2. Comparison of the yield concentration of ctDNA 1% standard library
Sample: The mutation frequency was 1% ctDNA standard
Sample Input:5ng
Number of PCR cycles: 10 cycles
Method: The prepared library was captured with Cancer SLC Panel, and the library was sequenced.the library yield, sequencing data quality and gene mutation detection were compared.
Results: Compared with the competitive kit, the results of hybridization capture of tumor ctDNA 1% standard showed that the library yield concentration of 12197 was higher than that of V*
Sequencing data quality and mutation detection display

Figure 3. Quality control data
Results: Compared with the sequencing data of competing products, 12197 had less fragment self-connection, lower Dup, higher Mean Depth, higher capture efficiency
Comparison of mutation detection frequency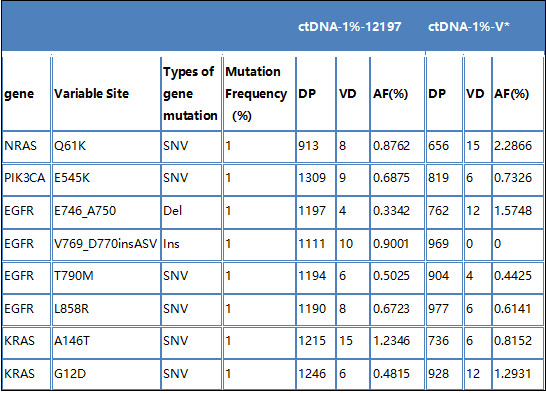 Figure 4. Mutation site detection table
Results: Compared with the competing kit, 12197 could stably detect all sites in the 1% standard sample of tumor ctDNA. The EGFR V769_D770insASV site was not detected in the competing V* kit.