Description
Precast Protein Plus Gel series adopt HEPES-Tris buffer system, which has the advantage of excellent separation effect and greatly shortens the electrophoresis time. The Precast Protein Gel plate is made of plastic, and the special perfusion technology can ensure the stability and consistency of strip distribution between batches of Precast Protein Gel, and the electrophoresis effect is stable. The height of the stacking gel is 1.5 cm, the gradient concentration is 4-12% and 4-20%, and the fixed concentration is 8%, 10%, 12%, and 15%. The number of sample loading wells of each concentration gel is 10 and 15, respectively. The maximum sample loading is 70 μL for 10 wells, and 40 μL for 15 wells. This series of gels do not contain SDS and can be used for both natural and denatured protein electrophoresis. When used for natural protein electrophoresis, only the protein with an isoelectric point less than 7 can be separated. The electrophoresis solution must be matched with the electrophoresis solution. 
Features
Easy to use: ready to use; Tear off the adhesive tape from the bottom of the plastic board

Wide range of applications: compatible with denatured protein and natural protein

Clear band: the special treatment of plastic plates greatly reduces protein adsorption

Time-saving: the experiment can be completed in 18 minutes at the fastest

Quality assurance: strict inter-batch stability assurance

Long shelf life: can be stored at 2℃ ~ 8℃ for one year
Applications
Natural and denatured protein electrophoresis
Specifications
| | |
| --- | --- |
| Concentration | 4-20%, gradient |
| Calculation | Separation range 3.5-250 kDa |
| Appearance | Transparent |
| Volume | Maximum Loading Volume: 70 µl |
Components
| | | |
| --- | --- | --- |
| Components No. | Name | 36250ES10 |
| 36250 | Precast Protein Plus Gel, 4-20%, 10 wells, Hepes-Tris | 10 gels/box |
Shipping and Storage
The product is shipped with an ice pack and can be stored at 2℃ ~ 8℃ for one year. away from light.
Figures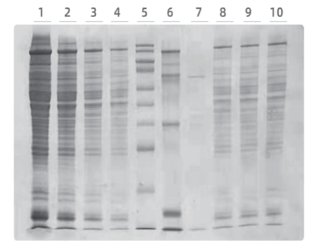 Figure 1. The SDS-PAGE electrophoretogram of Precast Protein Plus
1: Rat liver tissue(100 μg); 2: Rat liver tissue(50 μg); 3: Rat liver tissue(20 μg); 4: Rat liver tissue(10 μg); 5,6: Marker; 7: BSA; 8,9,10: E.coli lysates