Host cell residual DNA is a process-related impurity involved in the production of biologics, which not only reduces the effectiveness of biologics, but also may pose safety concerns such as infectiousness or tumorigenicity. Therefore, regulatory agencies in various countries have set limits on the amount of residual DNA in biologics.
The current guidelines of WHO and US FDA recommend that residual DNA in finished products should not be higher than 10 ng/dose, and US FDA also points out that residual DNA in host cells of biological products should not be higher than 100 pg/dose. The General Principles of the European Pharmacopoeia stipulate that the limit of residual DNA in biological products should not be higher than 10 ng/dose, but the residual DNA limit for individual vaccines is more stringent, e.g., the residual DNA in the inactivated vaccine against hepatitis A should not be higher than 100 pg/dose, and that in the vaccine against hepatitis B should not be higher than 10 pg/dose. The 2020 edition of the Chinese Pharmacopoeia, Part III, stipulates that the DNA residue in biological preparations produced on a cellular matrix should not exceed 100 pg/dose, and the DNA residue in vaccines produced on a bacterial or fungal matrix should not exceed 10 ng/dose.
In addition, for the methods of exogenous DNA residue determination, national pharmacopoeias also give guidance recommendations. The U.S. Pharmacopoeia 2017 edition of USP40-NF35 General Provision 1130 describes three methods for the determination of exogenous DNA residues, which are DNA probe hybridization, threshold method and real-time quantitative PCR method. The European Pharmacopoeia proposes real-time quantitative PCR and immunoenzymatic method, two sensitive analytical methods for quantifying host cell residual DNA. The Chinese Pharmacopoeia 2020 edition of the three general rules 3407 also stipulates that the host cell DNA residue detection methods are DNA probe hybridization, fluorescence staining and quantitative PCR.
Among them, qPCR method has very high sensitivity, sequence specificity and accuracy, which can provide a reliable detection means for the biopharmaceutical industry in process research and quality control of finished products, and has now become the preferred detection method for each biological product manufacturer.
Yeasen Biotechnology has independently developed 4 qPCR kits for CHO&HEK293&Vero&E.coli, which can rapidly and efficiently detect host DNA residues in biopharmaceuticals.
Product Features
High Sensitivity:The lower limit of detection can be as low as 0.5 fg/μL.
High Precision: Repeatability CV <10%, Intermediate precision <15%.
Strong Proprietary:No cross-reactivity between different cell lines.
Quantitative Accuracy: Exclusive sample prep kit for magnetic bead assay.
Short Operating Time: Complete testing process within 3 hours.
Product Parameters
Product No.

41305ES

41306ES

41307ES

41308

Product name

CHO Residual DNA Detection Kit

HEK293 Residual DNA Detection Kit

Vero Residual DNA Detection Kit

E.coli Residual DNA Detection Kit

Product Component

 

CHO DNA Control

CHO qPCR mix

DNA Dilution Buffer

HEK293 DNA Control

HEK293 qPCR mix (UDG plus)

 HEK293 Primer&probe mix

DNA Dilution Buffer

Vero  DNA Control

Vero qPCR mix

 Vero Primer&probe mix

DNA Dilution Buffer

E.coli  DNA Control

E.coli qPCR mix

E.coli Primer&probe mix

DNA Dilution Buffer

Product Specification

100T

100T

100T

100T

Appliance

Quantitative analysis of host cell DNA residues in intermediate, semi-finished and finished products of various biological products

limit of quantification

0.5 fg/μL

10fg/μL

0.5fg/μL

30 fg/μL

Pre-treatment kit

 Magnetic Bead DNA Residue Pre-treatment Kit: Manual Extraction, Cat#18461ES, Adapts to All Residue Kits

Applicable models

Thermo:ABI 7500;ABI QuantStudio 5;ABI StepOnePlus;

Bio-Rad:CFX96 Optic Module.
Workflow
Yeasen Biotechnology R&D and production platform for quality control assay reagents
Product Data
Residual DNA Detection Kit
Figure 1 Standard curve generated from a 10-fold dilution series of CHO standard DNA. The results show that the host cell residual DNA quantitation kits exhibit a broad dynamic range and high sensitivity.
Magnetic Bead Method Sample Pre-treatment Kit
Table 1 DNA Recovery Using the MolPure® Magnetic Residual DNA Sample Preparation Kit performance data from independent validation study using E.coli genomic DNA spike per sample.
| | | | |
| --- | --- | --- | --- |
| Sample | Concentration | Mean recovery | CV |
| 300pg/uL | 288.49pg/uL | 96.16% | 7.66% |
| 150pg/uL | 162.51pg/uL | 108.34% | 10.02% |
| 10pg/uL | 10.48pg/uL | 104.89% | 8.15% |
| 5pg/uL | 4.66pg/uL | 93.20% | 9.67% |
| 60fg/uL | 56.97fg/uL | 94.95% | 12.82% |
| 30fg/uL | 31.76fg/uL | 104.91% | 12.49% |
R&D Platform
Based on the platform of bidirectional molecular enzyme design and directed evolution and the platform of protein high-density fermentation and ultra-clean purification, we have set up the R&D platform of key raw materials for molecular diagnostic reagents and an independent molecular and immunoassay product development laboratory, which are equipped with advanced R&D instruments and equipments.
Production platforms
Constructed and managed in strict accordance with ISO13485 quality system standards, we have independent clean production workshops to meet the quantitative and qualitative requirements of different products. Layer by layer, each step of the release has gone through a number of strict and high standard quality acceptance.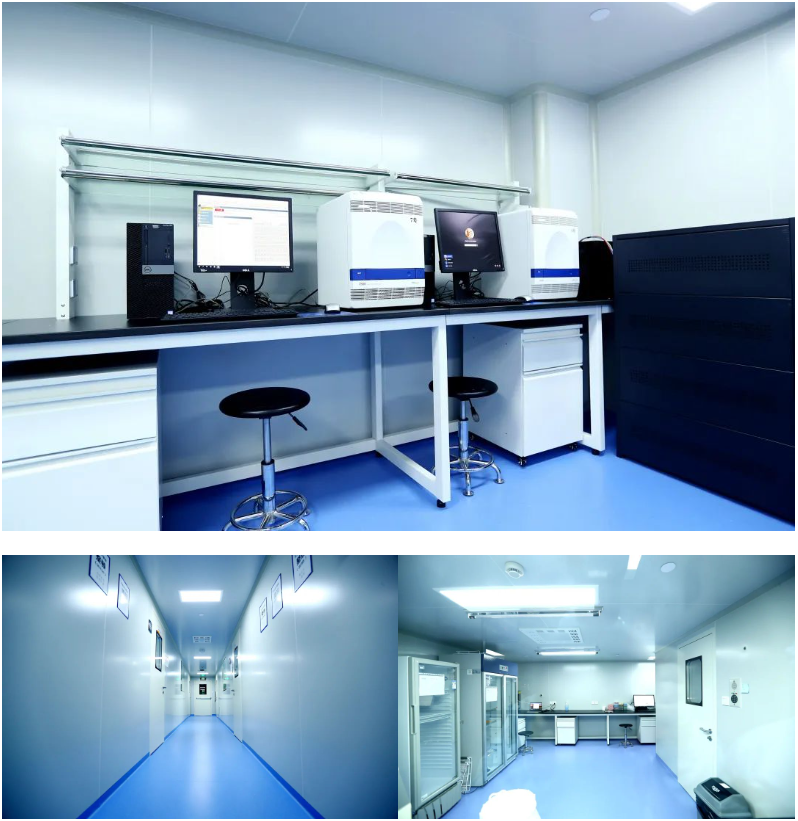 Yeasen Biotechnology R&D and production workshop for quality control assay reagents
Product Information